Sept 2017 'second sip' - 2017 Diageo Special Releases - Tasting Notes
Sept 2017 'second sip' - 2017 Diageo Special Releases - Tasting Notes
Now, I know none of us are likely to buy any of these beautiful whiskies, but following on from my previous blog, the Diageo Special Releases 2017 are rapidly approaching and the list of whiskies and tasting notes has been released.
As I mentioned previously, it's an exciting group of whiskies this year: along with the regular Port Ellen, Brora, Caol Ila and Lagavulin, there's also the oldest whisky Diageo has ever released, a whisky made with experimental yeast, whisky from a closed distillery, a bicentenary bottling and the first blend to appear in the Special Releases.
For any lottery winners amongst the WACWAC, these whiskies are available to pre-order now on the Whisky Exchange's Diageo Special Releases 2017 page. If that's you, then I'm free that night!
The most straight down the line of the entire 2017 range: a 23-year-old whisky matured in European oak 'bodega butts' – casks seasoned with sherry or sherry-like fortified wine. It's the first appearance of Blair Athol in the Special Releases and the blenders have gone for the style of whisky that the distillery is best known for: big sherry.
Nose: Sour apples, green leaves (tarragon and mint) and chocolate with a hint of sandalwood. Sultanas and raisins build along with candied peel and brown sugar. Water brings out orange zest, candy necklaces and floral hints.
Palate: Rich and rounded with toffee and caramel sauce drizzled over singed fruit cake. Light notes of sweet baked apple float over the top, along with light, spicy fruit cake. Darker and more savoury notes of damp earth and green leaves hide underneath. Water dials up the savoury notes, revealing barrel char and bitter cocoa but balancing it with sweet cream.
Finish: Treacle toffee and lardy cake leading to lemon oil and apple skins.
The second most feted bottling in the line-up, and increasingly the one that whisky fans get most worked up about. There's a solid number of bottles this year, with 18 American-oak hogsheads making up the vatting, but the question remains: will there be another Brora in the Special Releases next year?
Nose: Damp hay, earthy notes and farmyard hints lead to gentle smoke and waxy apples. Cooked apples mix with stewed lemons and then overripen, sitting on the edge of mulchiness. The earthy notes reappear along with chocolate and hints of menthol.
Palate: Perfumed apple blossom explodes across the palate only to be rolled over by apples, chocolate and a touch of chilli spice. Damp forest rancio builds with sweet nuts, gentle smoke and Dutch liquorice.
Finish: Sweet liquorice and cocoa fade to orange and lemon, and then fragrant earth. Very long.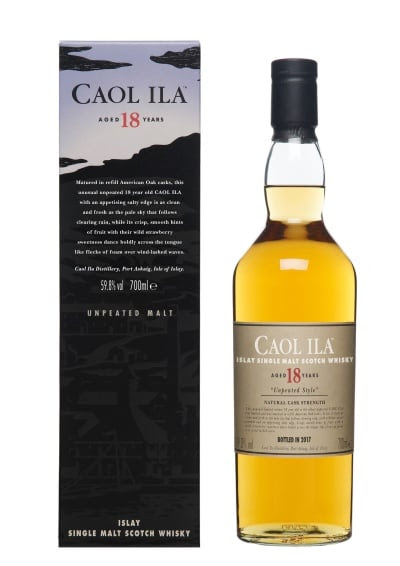 Another regular in the line-up: the yearly unpeated Caol Ila release. This is a vatting of refill American-oak hogsheads filled across 10 different dates and is the oldest Special Release Caol Ila for a while. The 18-year-old peated Caol Ila has long been a favourite for many but how does the unpeated version measure up?
Nose: Pine and pastry: Christmas biscuits hanging from the tree. Herbal notes run through the middle with black pepper and a hint of sea spray. Water amplifies the maritime notes and pulls back the pine to reveal sweet apple sauce and cinnamon sugar.
Palate: Softer than expected from the nose, with chocolate-covered caramel digestives, Garibaldi biscuits and apple sauce to begin. A big grind of black pepper pops up in the middle of the palate, followed by stewed peaches and honey. Sweetness builds, backed up by a wisp of smoke, leading to a plateau of fragrant apple blossom, apples and honeysuckle. Water brings out more fruit and a piny sherbert tingle.
Finish: Intense apple with hints of bacon. Toffee and black pepper slowly fade to leave chocolate.
This was the final whisky to be revealed and is part of a tradition that has popped up over the past few years: one of the bottles in the range always seems to have been created specifically to annoy whisky geeks. The Collectivum is a blended malt whisky, vatting together spirit from all 28 of Diageo's operating malt distilleries to create the first blend in the Special Releases. There's been lots of speculation on the price, with assumptions of something rather big after the past couple of years of NAS Clynelish releases, but at £150 it's surprisingly reasonable.
Nose: Chocolate cornflake cakes, red berries and waxy apples to start. Custard and cocoa sit underneath and a sprinkle of candied lemon lies on top.
Palate: Quite hot to start – it takes water well – with intense cinnamon and nutmeg spiciness. Orchard fruit comes in through the middle, surrounded by lemon and orange. Spice fades and then builds again, with liquorice and hints of smoke at the back.
Finish: Damp leaves and spice fading to chocolate milk.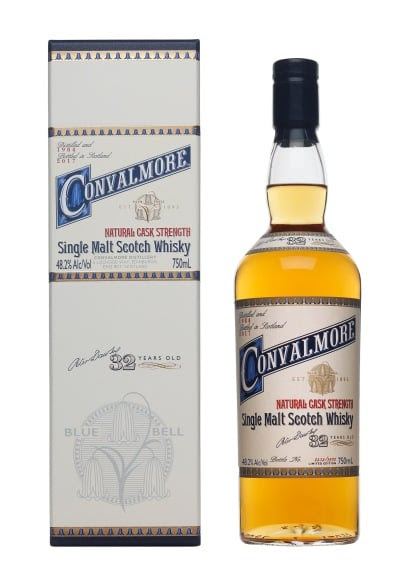 The fourth release of whisky from Convalmore, which closed in 1985. This one was matured in refill American-oak hogsheads and was all distilled on the the same day in 1984. Convalmore fulfilled a very specific role when open, producing fruity and waxy whiskies for blending, but unfortunately during the 1980s' downturn it was surplus to requirements and closed. Since then, its star has been rising and rumours of casks running out have been circulating.
Nose: Waxed apples and blanched almonds start, with mixed nuts jumping in with a squeeze of lemon. Zesty and floral touches sit on top with umami richness lying beneath. Water drops in orchard fruit, floral notes and a touch of acidity.
Palate: Really soft to start, with salty touches and lots of nutty notes: peanuts and creamy almond milk. Sweet candy necklaces follow with sweet-and-sour candied lemon peel. Water adds layers of creaminess and a hint of bitter barrel char.
Finish: Sweet cream and oily lemon zest. Char at the end.
An experimental whisky from Glen Elgin, put together from a combination of European-oak bodega butts and hogsheads, and refill butts. Some of the spirit was distilled from wash fermented using pombe, a yeast more commonly used to make millet beer and first isolated in Africa – pombe is Swahili for beer.
Nose: Apple boiled sweets, toffee apples and freshly sliced apples to start – a big bowl of appley flavour. Lemon and honey roll in behind that along with foam bananas and a touch of tangerine.
Palate: Sweet and sharp at first, with candied lemons and sherbert. That steps to one side to reveal a pool of rich runny and crystallised honey surrounded by grippy apple skin. Darker woody notes appear around the edges along with a sprinkle of desiccated coconut.
Finish: More honey is joined by nutty hints: almonds, almond skin and toffee-covered hazelnuts.
The most affordable bottle in the range as well as the most popular entry each year. Traditionally it's a youthful and intense Lagavulin showing off the maritime side of the distillery's character. However, with last year's celebratory 8-year-old release still on the shelves, does this offer something different?
Nose: Mulchy leaves and meaty peat smoke with ash and mineral-laden smokiness building behind. Coal stoves emerge from the smoke with a layer of sweet peat on top, and a flash of mint. Water releases a burst of sea-spray and gentle oiliness.
Palate: Salted peanuts and green leaves surrounded by clouds of sweet peat smoke. Coal dust and char appear, with sharp apple, lemon and a touch of ash close behind. Water brings sweetness and an underlying layer of rich chocolate.
Finish: Citrusy smoke fades to coal dust. Liquorice and black pepper remain.
The now-expected grain-whisky release in the Special Releases, this Port Dundas is quite special: it's the oldest whisky that Diageo have ever released, beating the Glenury Royal 50yo from 2003. The distillery closed in 2009 and has since become a favourite of grain-whisky fans. This release is made up of nine refill American-oak hogsheads, all filled on the same day.
Nose: Classic old grain to start, with flashes of nail varnish overtaken by fresh ripe blackcurrants and a hint of Ribena sweetness. Concentrated coconut leads to a centre of dark-chocolate-covered Bounty bars, clove and freshly mown grass. Golden rum and candied lemon slowly develop, providing extra sweetness. Water adds vanilla and a hint of bittersweet black treacle.
Palate: Soft and sweet to start, with golden-sugar-dusted dark fruit cake. Berry fruit builds, both the blackcurrants from the nose and sharp redcurrants. The vanilla rolls in, with cream and egg-custard tarts backed up by a milk-heavy caffè latte. Water adds in further layers of fruit, from sweet Ribena down to dark blackberry compote.
Finish: Blueberries, toffee and egg custard start, dying away to leave Portuguese custard tarts.
The biggest name in the yearly line-up and the most expensive bottle in the range. Each year there a surprise that not only does Diageo have casks left, but that they're still tasting really good – will the Port Ellen 17th Release be the final one? This is a vatting of eight casks, refill American-oak hogsheads and butts filled on two dates.
Nose: Seashells, wax and sweet apples. Foam strawberries follow, along with incense and charcoal-grilled pears. Surprisingly fresh to start, with marzipan and earth notes slowly building. Water brings back zestiness, with lemon butting up against coal dust.
Palate: Soft smoke to start, with dry peat, coal and leather. Sugary notes appear, with stewed apples covered in sweet custard. As that starts to fade, it's replaced by damp leaves, surrounded by more smoke and a handful of coal dust. A drop of water amplifies the smoke and adds further damp leaves to the fire.
Finish: More leaves, but spread across damp tarmac. Sweet apple appears and slowly fades to leave cocoa and a touch of minerality.
The final bottling (alphabetically) in the list and a celebratory one: it's Teaninich's 200th birthday this year. More recently, the distillery has been in the news due to a huge expansion, doubling capacity, and for its mash filter – a device that replaces the more traditional mash tun – as it was, until recently, the only whisky distillery using one. This whisky, however, is from before all of that, back when the distillery was half the size and still used a mash tun. A look back at what Teaninich used to be like before all the more recent changes.
Nose: Rhubarb-and-custard sweets, sherbert lemons, green leaves and a lick of oak spice. Apples, pears and hints of nectarine follow, with spun sugar gently placed on top. Water adds a spritz of zest: lemony citrus and sharp apples.
Palate: A big hit of syrupy sweetness kicks things off, following by caramel and candied lemons. Herbal notes creep in along with butter toffee and Granny Smith toffee apples. Water adds in layers of caramel, a hint of cider toffee, more cream and lemon.
Finish: Lingering bakes apples die away, leaving behind lemon oil and freshly sawn oak.